The Impact Staging Your Home Has On Your Sale Price [INFOGRAPHIC]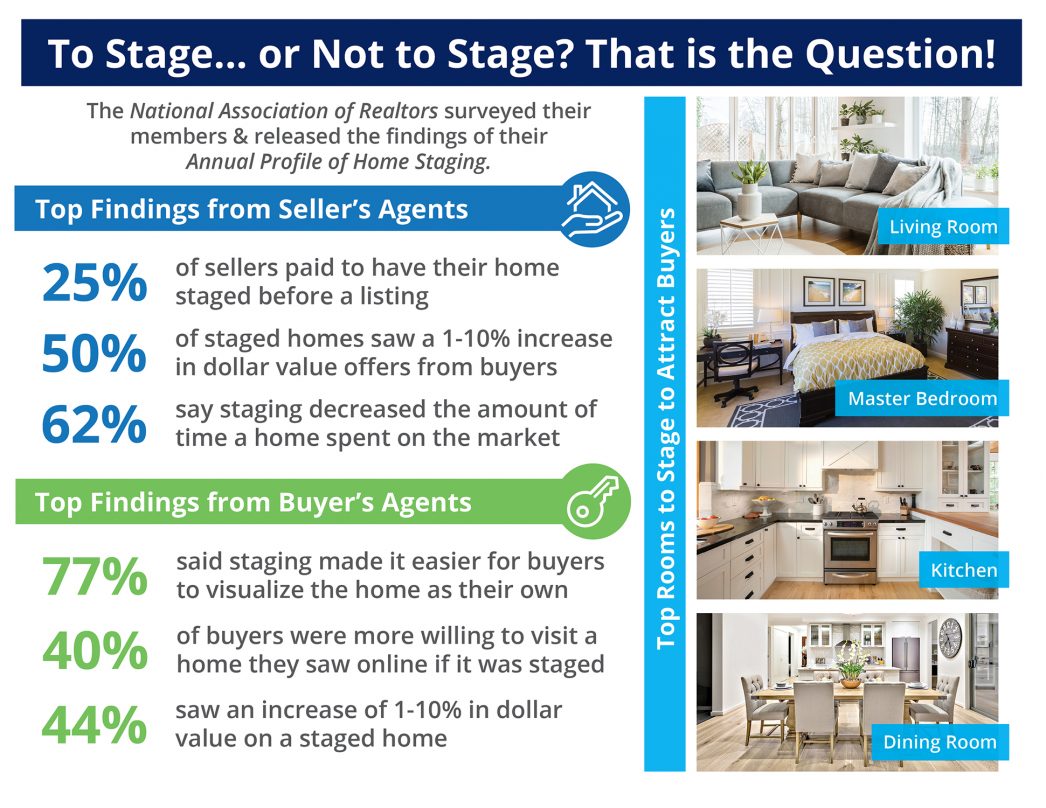 Some Highlights:
The National Association of Realtors surveyed their members & released the findings of their Profile of Home Staging.
62% of seller's agents say that staging a home decreases the amount of time a home spends on the market.
50% of staged homes saw a 1-10% increase in dollar-value offers from buyers.
77% of buyer's agents said staging made it easier for buyers to visualize the home as their own.
The top rooms to stage in order to attract more buyers are the living room, master bedroom, kitchen, and dining room.
Staging pays for itself
If you find that you must move before your house is either on the market for sale or while it is on the market, staging your home pays for itself in many ways. Houses staged allow people to visualize the size of rooms – especially the living room or master bedroom. Most people aren't able to visualize their own furniture in an empty room. Face it, it's hard to do that unless you're an artist or designer. The cost will be covered in the additional money offered for a home that looks good and shows well.
If you can't afford to do the whole house, then stage the living room and master bedroom. Add in the dining room if you can. The stager, or your agent, can always stage the kitchen because most of us have those items in our own tool chest of staging items. That can save additional costs.
Staging is done for a minimum of 30 days and often paid up front. Occasionally there is a stager who will take payment through escrow, but don't count on it. Therefore it is an expense you need to account for while planning your sale with your agent. Talk to several stagers to compare their costs and different furniture types. Let them decide how to stage your home to show off its best features and move on to your new location feeling comfortable that they will do a great job.