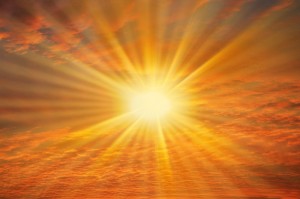 Summer has arrived and with it brings longer days and bright memories of time spent outdoors with family and friends, whether at the beach or in your backyard.  In the Burlingame area we are lucky that we don't suffer from extreme heat for many days on end during the summer.  But we do have it on occasion so it's important to know what to do when that heat wave hits.  The following tips can help you in surviving the few hot summer days that do come so you can make it a bit cooler as the sun shines down.
First and Foremost, Be Cool
If you happen to have, and will be using an air conditioning unit, take the time now to make sure your filter is clean and that the refrigerant level is correct so you do not waste energy when it is being used. Calling a service technician before our summer heat wave hits will result in a lower check-up cost than needing a emergency call during the heat, and provide you with peace of mind. You may also want to invest in a programmable thermostat to keep your energy costs low this year. Since the most heat is generally at summer's end you have a little time, but who knows, tomorrow could be a scorcher so don't wait too long.
If you do not have an air conditioning unit, and most of us don't, you can still stay cool by sealing and caulking windows and doors. After doing  that, your goal is to circulate air inside your home with fans and strategically opened windows to create a breeze inside your home. You can also install a whole-house fan or ceiling fan (have it rotate counter-clockwise) to take advantage of cooler nighttime temperatures all day long.  Ceiling fans aren't expensive and attic fans are becoming reasonable to install, too, and they really do help to cool you off.
Second, Consider Harnessing the Sun's Power
If you have been thinking about installing solar panels on your roof, act now to get the most out of your panels this summer and throughout the years to come. You also might consider solar window film as an option for keeping your home cooler. Lastly, if you can't beat the heat, embrace it, by lounging poolside or taking advantage of local parks where you can enjoy the sunshine under the shade of well-established trees.  Or better yet, hit one of the local malls to cool off or go to the movies during the heat of the day and cool off that way.  We are lucky to have cool evenings even when the days are hot.
We're lucky to not have hot days that go on for weeks at a time, as they do in other parts of the country.  We often forget this while enjoying our generally mild Burlingame weather.  Our natural air conditioning appears after three or four days of heat with fog rolling over the hills and cooling us off.  During the few days of oppressive heat we have to take care to drink lots of water, close window coverings, and move slowly.  Then rejoice when Mother Nature does her thing to cool us off.
Are you looking for a Burlingame home?  Here's what's for sale right now.  If you see something you'd like more information about give us a call.
[idx-listings linkid="92609″ count="10″ showlargerphotos="true"]