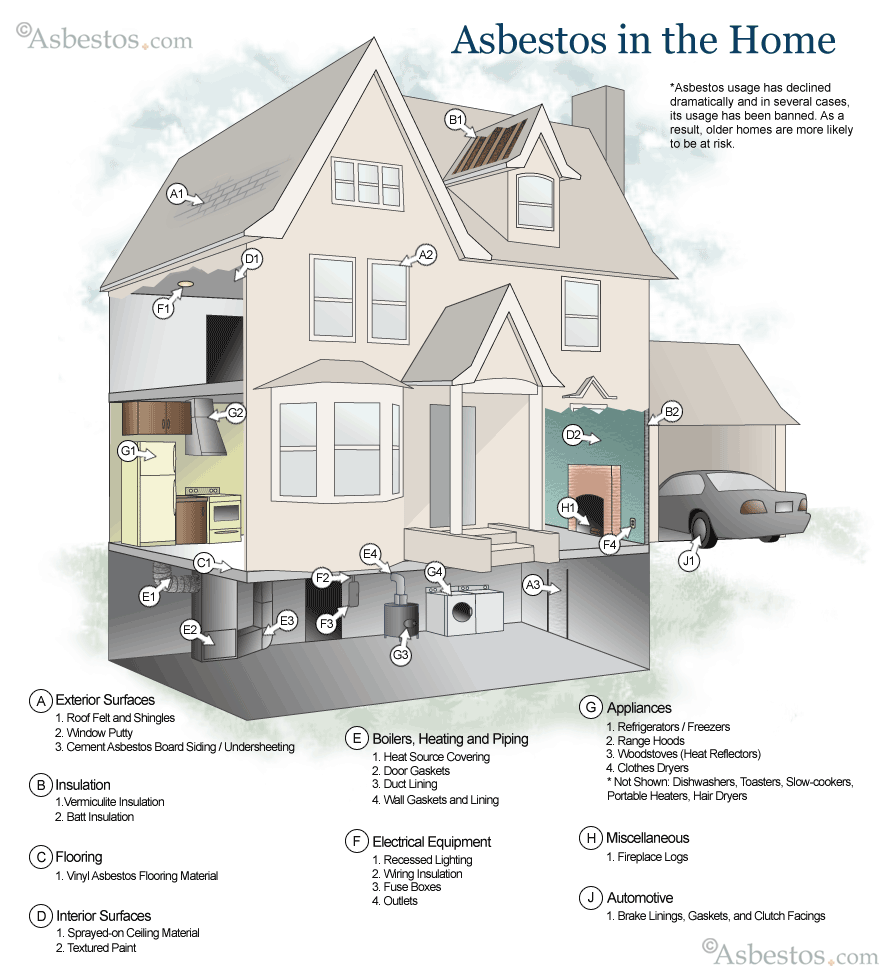 The homes in the Burlingame area are generally older and one of the real estate forms we are required to have buyers and sellers sign has to do with the likely use of asbestos in these homes.  This form is part of the Disclosure Package.   This natural product was considered to be somewhat safe until about 40 or so years ago. It was used everywhere in the building industry, from wrapping furnace vents to floor tiles. Not today. The evidence of the health risks involved with asbestos existed almost a century ago, but it really wasn't until 1990 when the California Air Resources Board began regulating the amount of asbestos in building applications. Asbestos had been highly regarded throughout most of the 20th century, gaining widespread use due to its fire, heat and weather resistant qualities.
Many types of asbestos occur naturally in California because of its location and geologic history. Asbestos deposits are found naturally in 44 of California's 58 counties. Homes and buildings built before 1980 could likely still contain asbestos-materials. Potential home buyers and people re-modeling their homes today are shown many healthy options replacing the need for asbestos entirely.
The people who were exposed to asbestos in many industries years ago are now suffering from it their in later life. Asbestos exposure can cause a severe lung ailment known as mesothelioma. This aggressive form of asbestos cancer accounts for nearly three percent of all cancer diagnoses in the country. Mesothelioma treatment is unfortunately almost always unsuccessful and physician prognosis is poor.

The California Department of Industrial Relations administers a number of programs which are aimed at preventing asbestos exposure in public facilities, workplaces and homes. The removal of asbestos must be performed by licensed abatement contractors who are specially trained in handling hazardous materials. It is highly recommended that those who believe they live or work in an area where asbestos are found to leave it alone. Contractors come equipped with protective gear in case its fibers become airborne immediately after it is broken up. Once the remove is finished, healthy alternatives should be considered as replacements.  So if you have those popcorn ceilings so many of us have in our homes have it checked before you have it removed.
We're obligated to nurture and sustain this planet of ours and to try to use as many Green products as we can. Some of these products include the use of recycled building materials like cotton fiber, cellulose and lcynene.
Implementing eco-friendly materials will also result in a decrease in energy costs and help maintain Californiaís beautiful environment. The United States Environmental Program states that that cotton fiber insulation can reduce costs anywhere from 25 to 35 percent annually. Not only do these alternatives save you money, they allow a lifestyle free of health corroding materials.