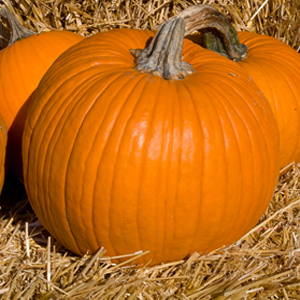 The calendar said we hit fall back in September but the weather hasn't caught up with that just yet with really warm days and cool nights still with us. It makes it hard to really feel like it is fall.
How do you welcome fall at your home? Do you pull out the hay bales, carve up the pumpkins, welcome the howling wind and wait as the leaves fall to the ground, casting a perfect look of disarray on your normally well-kept lawn? Maybe you use this season as an inspiration in your baking?
Regardless of how you greet fall, it has arrived, bringing a crispness to the morning and evening air,  and earlier sunsets for all of us. As you think about how to extend a little more light into your day, consider brightening up the porch of your home with some wonderful bright pumpkins.
Small or large, a pumpkin or gourd with a flat bottom is a must-have at this time of year, and color and variety are still found at your local farmer's market. There are so many different kinds to select, it's fun to have those bright orange pumpkins sitting with white and green ones, too.
If you also like to have a wreath on your door, keep it to fall fun through Thanksgiving weekend.  Then shift to the holiday wreath.  Christmas doesn't come until December, so why can't we enjoy our fall celebrations while it's still fall?  I hope you agree with me and don't rush the change of seasons.
.