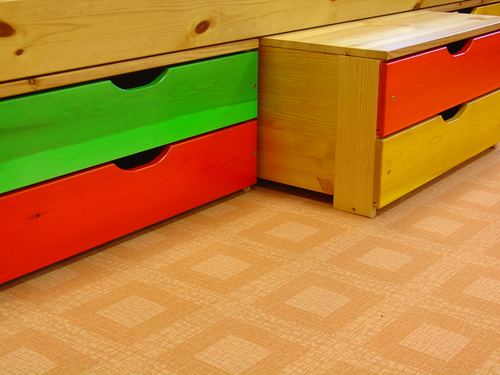 We, as a society, have a problem. We find ourselves living in cluttered homes because we don't have enough storage to hold everything we buy. Most of us want to get organized and simplify our lives, so we're always looking for clever ideas to store our stuff out of sight. Here are some great ideas to help you store your stuff.
Out of sight, not out of mind…
Under Bed Storage
It's amazing what you can hide under your bed if your bed sits in a frame above the floor

.

 You can purchase under-bed boxes for shoes. out-of-season clothing or bedding. Or, you can invest in a storage bed for you or your kids. They come in a variety of configurations with drawers along the sides, or at the ends.
Hidden Cabinets
Similar to a bathroom medicine cabinet, look for shallow shelving with a "false front" that looks like artwork. Or, make your own by

repurposing

old mirrored cabinets by replacing the mirror with your favorite art. If your bathroom sink doesn't sit in a cabinet, skirt the sink and put storage there. If you have an open space underneath your stairs, have it enclosed with a door to hide the shelving under the stairs to hold your items.
Make the Laundry Disappear
Use a bigger drawer (perhaps one of those under-bed ones, or create your own) trunk or a toy chest to hide that laundry basket.
Electronics Covers
Nothing is worse than the jumble of computer boxes and wires it takes to keep you connected. Grab some pretty file or photo boxes to stash them in. Just cut holes in the back for the wires to slip through. (Note: this method does not work with boxes that require the use of a remote like a Roku or AppleTV unless the box has a clear plastic front that lines up with the remote reader in the unit).
Modified Hide-A-Bed
If you have a sleeper sofa that you don't ever use for sleeping, you may be able to modify it into a storage sofa. You'll need to remove the mattress and folding

bed frame

and replace it with a solid surface on hinges (like a toy box lid) and it might require reinforcing the structure of the sofa, but there's a lot of room to be had under the sofa. If you hang plastic boxes under there, you can keep items from getting dusty too.
More Ideas…
Other storage devices similar to these include cubbies, storage headboards, ottomans with lift-off lids and over the door storage. When you're shopping for new furniture look for items that can hide pillows, throws and other items you like to curl up with while watching TV..
If you never use your dishwasher you can use it to store all of your clean dishes, freeing up cabinet space for something else. It also works super well as a hidden dish drainer. If you never bake, consider keeping those pots and pans in the oven.
Obviously, if your home is full of too much stuff, you might consider getting rid of a lot of it. It does free you of the burden of clutter, and the money you save from buying will add to your savings and you might find you like the simplicity.  I have lots of other great storage ideas that can help you in decluttering, so don't be afraid to ask.